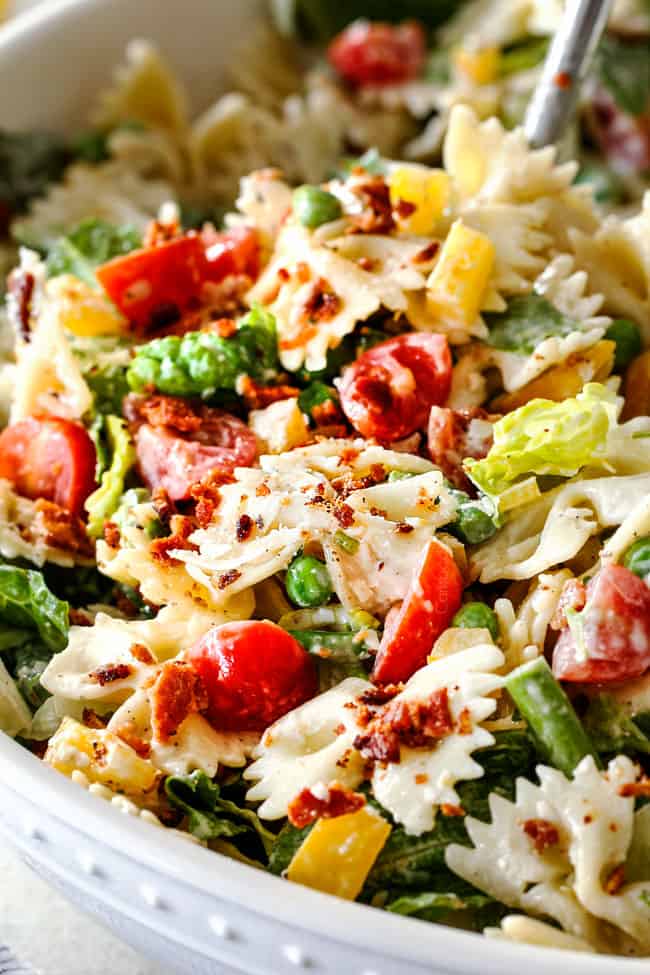 I saw this recipe on Facebook. Oh, my, it looks so good! I can't wait to try it. I'm not sure about the lemon chive dressing as lemon isn't my favorite, but I'm willing to give it a try. This recipe comes from the Carlsbad Cravings website. They say it is great for a potluck. With Spring here and the nice weather outside, we will be getting out soon with friends and family. I can't wait to try this recipe.
***
Ingredients
PASTA SALAD
12 oz. mini Farfalle pasta (or other small pasta like medium shells)
1/2 pound (½ bunch) asparagus tough ends removed then cut into 1" pieces
1 cup frozen petite peas thawed
1 yellow bell pepper chopped
1 pint cherry tomatoes quartered
4 cups roughly chopped romaine lettuce*
1/2 cup freshly grated Parmesan cheese
8 oz. thick cut bacon cooked and chopped
LEMON CHIVE DRESSING
2/3 cup mayonnaise
1/3 cup olive oil
2 tablespoon red wine vinegar
2 tablespoons lemon juice
1 tablespoon freshly grated lemon zest (approx 1 lemon)
1 tablespoon Dijon mustard 
3/4 teaspoon salt 
1/2 tsp EACH sugar, dried oregano, dried parsley, pepper
1/4 cup chopped fresh chives may sub 1 tablespoon dried
Directions
Whisk together all of the Lemon Chive Dressing ingredients. Refrigerate until ready to use.**
Cook pasta in generously salted water just short of al dente, then add the asparagus to the pot and cook with the pasta for 1 more minute. Drain the pasta and asparagus, rinse with cold water then toss with a drizzle of olive oil to keep pasta from sticking.
SERVING IMMEDIATELY:
Add all of the salad ingredients to a large bowl. Once pasta has cooled, add Lemon Chive Dressing and toss until evenly coated. Season with additional salt and pepper to taste (I like more pepper). Serve immediately.
MAKING AHEAD:
Add pasta, asparagus, peas, bell peppers and cherry tomatoes to a large bowl and toss with half of the dressing once the pasta has cooled. Cover with plastic wrap and refrigerate. Refrigerate the lettuce, bacon and Parmesan separately.
When ready to serve, add the lettuce, bacon and Parmesan and the remaining dressing and toss until evenly combined. Taste and add a splash more lemon if desired and salt and pepper to taste (I like more pepper).